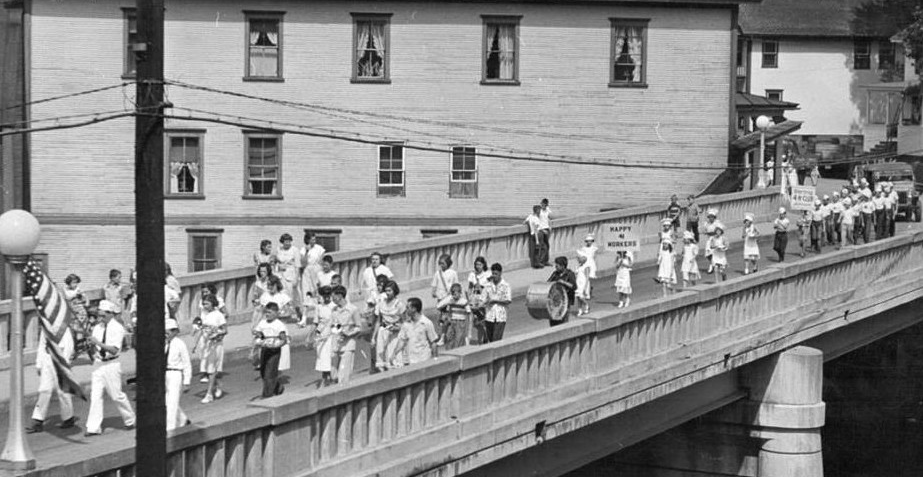 Johnson, granted in 1782 to Samuel Johnson and others, was chartered as a town in January, 1792; in 1894 the Village of Johnson was incorporated. Nestled in the Lamoille Valley, it is surrounded by mountains and forests and is the meeting place of the Lamoille and Gihon rivers. In it's beginning, the Gihon was the foundation for much of the water-powered mill economy, but it is also known for its woolen mill and former talc mines.
It has been another exciting year for the Johnson Historical Society!  Our collection of artifacts has grown extensively throughout the year.  Highlights include paintings by various Johnson artists such as Georgia Balch, Ruth Mould, Helaine Perkins, Geoff Corey, Nina Hooper, Roger Jones and Dr. Holcomb.  Visitors to the Holcomb House are intrigued by the photo collection that is displayed on a special picture board that includes more than thirty 3 by 5 foot panels.  New to our textile collection are three of Evelyn Ellsworth's dresses that she probably wore to those "kitchen tunks" held at the Ellsworth's Clay Hill home.  We also have recently added Dawn Herold's wedding dress and Jack Mitchell's army uniform to this collection.
Now that we are settled in the Dr. Holcomb House we plan to offer bimonthly programs which will include "Children's Christmas in Wales" presented by John and Melanie Dennis; "A brief History of Johnson's Talc Mine and Mill" by Dean West; and "Keeping Time in Day's Goneby" presented by Steve Engle.  Watch for these and other programs that will be announced later.
Tuesday Night Live (2016) was our best year ever with a total income of just over $6,000. It takes forty plus volunteers to make our booth successful!  We are grateful to each one of them.  What would we do without those 28 pie makers!
The capital campaign kick-off, which was held in October, included the unveiling of our Pie Chart created by Kate Westcott followed by a motivational presentation by Bill Jaspersohn in which he acknowledged that $180,000 has been donated to date.   
Monthly minutes are posted on the town's webpage, a good place to follow the Historical Society's actions and activities.  We also invite you to like us on Facebook, where new pictures are added monthly, and check-out the donate button on this webpage.
Please consider renewing your membership or joining the Historical Society today.  You may  also use this form to let us know if you would like to contribute to the Johnson Historical Society with a donation and/or a commitment of your time.  Your support helps to ensure continued progress as we create a first-rate museum and historical resource in our community.  Thank you!  We appreciate whatever support you provide.
Linda Jones, President                                                              Alice Whiting, Membership Secretary
JOHNSON HISTORICAL SOCIETY CAPITAL CAMPAIGN
In 2014, the Town of Johnson purchased the former home and offices of Dr. Lyndhurst P. Holcomb, who practiced medicine in Johnson for 55 years. This important village building is now the new and permanent home of the Johnson Historical Society, in which to make our past come alive for generations of Johnson residents and visitors to come.
Inspired by this strong evidence of the town's commitment to our shared history, the Johnson Historical Society has launched its first ever capital campaign with the following goals:
•To retire the town's $250,000 mortgage for the JHS building now named the Dr. Holcomb House, which will serve as the eastern gateway of Johnson village's newly restored Main Street;
• To underwrite ongoing and new programs and projects the Historical Society may now undertake in its wonderful new home.
Use the buttons below to make a one time or recurring donation!
(Making a donation requires the use of Internet Explorer 11 or Chrome browsers)
Johnson Historical Society
188 Main Street, P.O. Box 383
Johnson, VT 05656
(802) 635-2300
Linda Jones, Town Historian
(802) 635-7401
Doctor Holcomb House Hours
Thursdays 9:00am – 12:00pm
Sundays 1:00pm – 4:00pm
And by appointment:
Dean West         Lois Frey
635-7434           635-7826