Holcomb House is now open twice a month on the second and fourth Sunday from 1:00-3:00 starting on June 12 – Masks must be worn. Visitors may still contact any member of the Historical Society to schedule a visit or call Dick Simays (802-635-7080) or Lois Frey (802-635-7826)
Every town is embodied in its history, its own characteristics, its uniqueness, its particularities,  those things that make it special. A place that ignites memories of your childhood, your high school days or the first day you arrived to that special place you call home. What is it that makes Johnson, Vermont special to you? What is it about Johnson that makes you feel content and secure in it uniqueness? What is it that puts that smile on your face, gives you a warm and cozy feeling when you say, "I live in Johnson, Vermont" or "I grew up in Johnson, Vermont?"
Johnson, granted in 1782 to Samuel Johnson and others, was chartered as a town in January, 1792; in 1894 the Village of Johnson was incorporated. Nestled in the Lamoille Valley, it is surrounded by mountains and forests and is the meeting place of the Lamoille and Gihon rivers. In it's beginning, the Gihon was the foundation for much of the water-powered mill economy, but it is also known for its woolen mill and former talc mines.
The mission of the Johnson Historical Society is to preserve
our history by weaving stories of the past
with the present,using our collections
of artifacts and displays, creating a
legacy for future generations.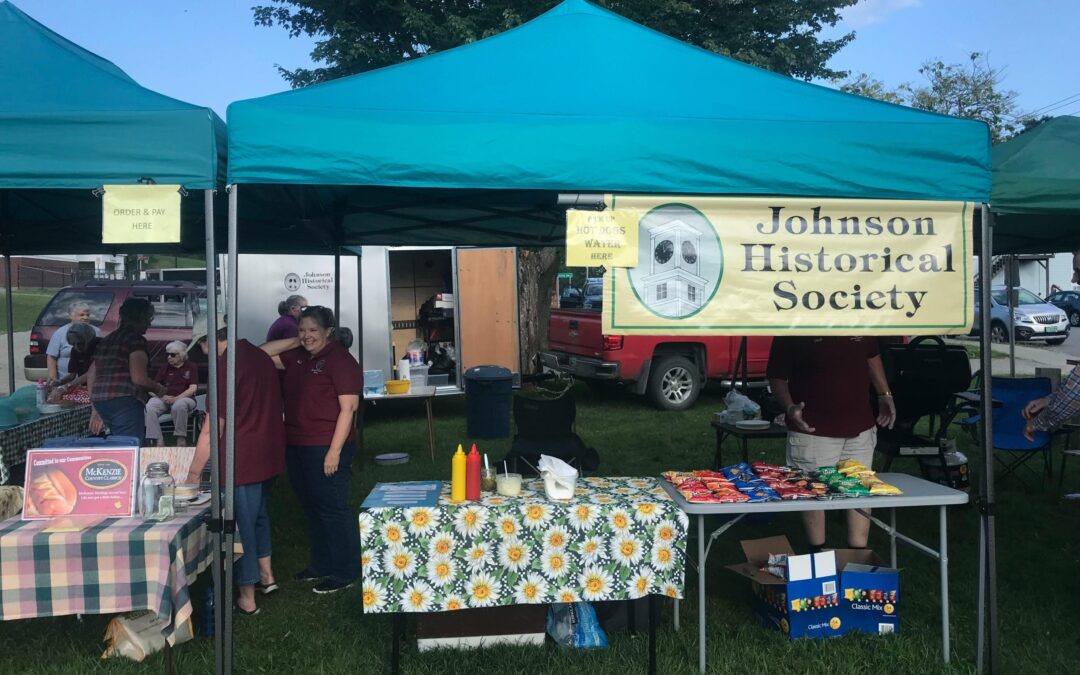 Making Tuesday Night Live a Success Getting Setup Food on the Grill Pies on the Table Lots of Pies on the Table Join us at Tuesday Night Live and find out how you can helpthis Important Organization Thank you for your...
read more
Johnson Historical Society
188 Main Street, P.O. Box 383
Johnson, VT 05656
(802) 635-2300
Linda Jones, Town Historian
(802) 635-7401
Doctor Holcomb House Hours
Thursdays 9:00am – 12:00pm
Sundays 1:00pm – 4:00pm
And by appointment:
Dean West  635-7434       Lois Frey  635-7826    Dick Simays 635-7080